How To Track A Round Using SwingU Strokes Gained
What Is SwingU Strokes Gained?
SwingU Strokes Gained is an integrated strokes gained analysis system available to SwingU Pro subscribers that tracks and analyzes every facet of your game from tee to green. For the first time, SwingU Pro subscribers can keep and analyze their stats as if they were a Tour pro, but at a more relatable and productive level.
For SwingU Pro users, the introduction of SwingU Strokes Gained is designed to be as valuable and intuitive an experience as possible with many of the same screens and prompts you've come to expect from our top-rated scorecard and GPS app, but with a few new bells and whistles that will allow our algorithm figure out how you stack up against your desired target handicap.
For your convenience, here's a quick tutorial on how you will go about setting up your target handicap, playing a round while tracking your statistics and receiving a one-round strokes gained analysis.
How Do I Set My Target Handicap?
You'll begin your journey with SwingU Strokes Gained by choosing a target handicap you aspire to. For the most accurate and attainable outcomes, we recommend setting your target handicap to be the next level from where your handicap currently resides.
Select the Performance tab on Android or the Stats tab on iOS. . Next, select the pencil icon to edit your target handicap at the top of the screen and select whatever level you'd like to work towards, ranging from Tour pro (+4-+6 handicap) to 25-29 handicap.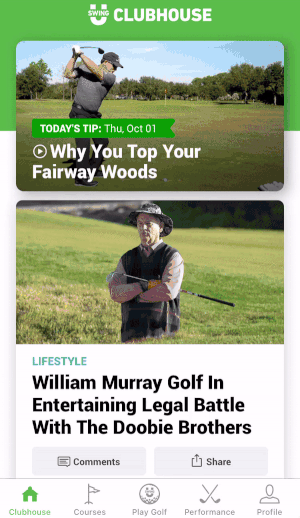 How Do I Start a Round With Strokes Gained?
From there, you would begin to play a round of golf as normal using the Play Golf tab. Once you've searched for and selected the course you're playing, you must enable SwingU Strokes Gained or else you will not have the proper score-keeping and stat-tracking available to you.
In the Round Settings, you'll see options for Use Handicaps, SwingU Strokes Gain and Tournament. Make sure your SwingU Strokes Gained toggle is flipped on.
Once you're ready to go with Who's Playing?, and Round Settings filled in, press Start Round and get underway.
What Data Do I Need To Enter?
SwingU Strokes Gained will require you to pay attention to each shot you hit throughout each hole as you will need to enter where your tee shot ended up — Hit FW, Good Lie, Bad Lie, No Shot, Penalty or OB/Lost — how far away your approach shot was played from — 25-yard increments from 50-250 yards — the cut of grass your approach was played from — Tee, Fairway, Rough or Sand — whether or not you had a Duff/Penalty between your second shot and when it was holed, whether or not you required a Chip/Pitch or Sand shot from less than 50 yards from the hole, you number of Putts as well as the length of your 1st putt.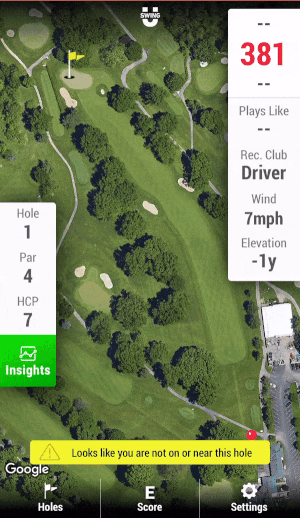 While it seems like a lot written out, very rarely will you need to use close to or all nine data points. Further situational questions have been covered in our Frequently Asked Questions article.
Score Entry Example
Going through an example hole, let's say our SwingU golfer hit a decent drive on a 400-yard par-4, but missed the fairway and is faced with 160 yards into the green. The golfer is left with a poor lie with trees in the way, making the shot to hit the green difficult, but not altogether impossible. This would result in a Bad Lie data entry.
(A Good Lie constitutes a good opportunity to reach the green in regulation (or whatever the goal may be for that given shot) despite not hitting the fairway. A Bad Lie constitutes an opportunity to reach the green in regulation (or whatever the goal may be for that given shot), but it would take an extraordinary effort or outcome for it to take place. No Shot would constitute a pitch out or no optimal shot to a playable spot; Penalty should be used for lateral hazards; OB/Lost should be used for stroke-and-distance penalties).
Already, our golfer has covered three data points: Drive, Approach Distance and Approach Lie. From there, our golfer hits a solid shot up near the green, but can't find the surface and the ball comes to rest in the rough some 15 yards away from the pin. The golfer then chips onto the green, which triggers a Chip/Pitch <50 Hit.
The next step is an important one: the golfer steps off or paces his distance from the hole. This is important as it gives a relatively accurate distance of his first putt for the data entry. At eight paces from the hole, 24′ is the number that will be selected after the completion of the hole.
The golfer misses the putt — it doesn't matter in this instance if the second putt is 10 inches or 10 feet away, it goes into the data entry as a two-putt. Here's how that bogey entry would look after the completion of the hole: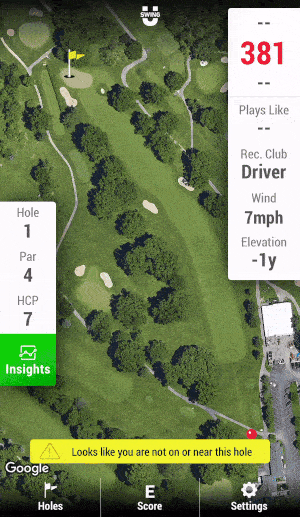 After the completion of the round, SwingU Strokes Gained will give you a comprehensive analysis of what you did well and what you did poorly compared to your target handicap. Relative handicaps will be assigned to each of the five facets of your game, giving you a simple and accurate way to comprehend how your round went.
With those handicaps, targets and relative handicaps in mind, SwingU's AI-powered algorithm will offer a prescriptive drill based upon the area of your game that requires the most improvement from that singular round.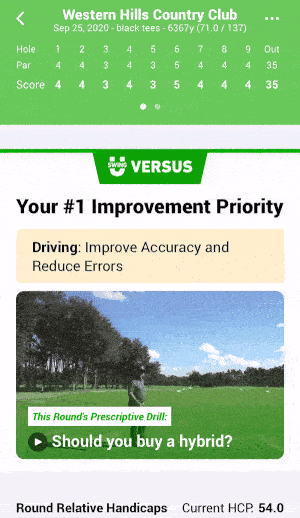 You are encouraged to not take too much into overall account from a singular round as the numbers can be volatile based upon one bad day on the tee or green, but after 3-5 rounds, you should start to have a fuller picture that, when honest with yourself and assuming you were honest in your score entry, should begin to pave a roadmap to improvement.